In addition to our years of experience in demolition contracting, Rakowski provides comprehensive consulting services to:
Contractors
Engineers
Architects
Building/Plant Owners
FINISH YOUR PROJECTS
PROPERLY AND SAFELY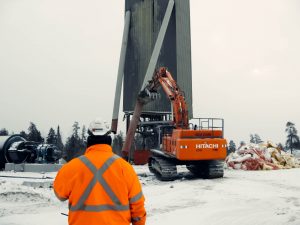 Demolition has many different disciplines and can become complicated when it comes to
planning a project. With 50 years of experience, we are equipped with the expertise to answer all questions and to ensure your next demolition project is completed properly and safely.
Rakowski offers a wide variety of comprehensive consulting options including:
Tender design and process
Demolition method and best practice
Blast design options
Engineered demolition
Asset dispersal/recovery
Detailed demolition budgeting
Rakowski uses all methods of demolition including: Conventional Demolition, Top Down, Rapid Progressive Failure, Selective Demolition and Explosive Demolition. We evaluate your project carefully, to ensure safety, cost effectiveness and practicality to determine the best solution.
We invite all of your questions, big or small, we are always happy to help. Contact us here or to speak with one of our staff about quotes and options, contact us today at 1-877-233-0402.

We provide consulting services to contractors or supply complete, start-to-finish implosions. We work closely with consulting engineers to perform pre-blast surveys and seismic monitoring.
Talk to us today at 1-877-233-0402 about your next project.
getting in touch is easy

Rakowski Cartage & Wrecking Ltd.
775 Plinguet Street
Winnipeg, Manitoba R2J 0G3
Phone: 204-233-0402
Fax: 204-231-2005
Toll Free: 1-877-233-0402